Don't forget, The Daily WTF loves terrible emails. Got one your self? Then mail in your mail!
---
Career Limiting Email (from Ben)
The story was that the company was rebuilding after nearly collapsing some time before. The bigwigs were working on a strategy to reverse things & turn the company into a world leader (in the space of a few years).
As part of this, the top CEO sent out a company wide email to advise of the new 'Vision and Mission Statement'. The message included some hype about some great new team polo shirts for everyone. After all, staff motivation is a matter of shirts over substance. The CEO's email contained front/back images of some corny designs: a cut and paste job of an MS clip art jumbo jet pasted on a shirt shaped thing. 'TURBO' was emblazoned across part of the shirt. All in all, it was incredibly lame.
Within a few hours, a career limiting email was received by everyone. I've replaced some names with their position in the company:
________________________________________________________
From: <name removed>
Sent: <snip> 9:20 PM
To: CEO; [City 1 Staff & Contractors]; [City 2 Office]; [All of City 2]
Cc: <someone else>
Subject: RE: Vision and Mission Statement

If we are going to get all corny and have turbo on our shirts, we should have a job title or something
on there for each of us....that is the name of a turbocharger part or jargon related to turbos...
I bags 'wastegate'. Or 'boost creep'
Let's play "Who's that part?"...simply match up the names on the right with the turbo-related terms
on the left....the order's I've put them in are...uh....random.
 
Blow off valve                 <CEO>
Turbo timer                    <General Manager - City 1 office>
Air box                        <CEO - acquired company>
Inlet hose                     <Solutions Architect>
Intercooler                    <CTO>
Boost control                  <Senior Product Manager >
Hybrid                         <Sr project manager, earlier promoted from a developer role>
Turbine                        <head of software / product architect: churned out loads of awful code>
Detonator                      <admin - city 2>
Cold-side scroll               <documentation manager>
Heat shield                    <admin - city 2>
Inducer                        <Business Development Manager>
Surge limiter                  <CFO>
 
Feel free to add your own!

The sender remained employed (he was one of the crucial as he knew a lot about the codebase of the acquired company). He made a few more gaffes, such as emailing everyone to list his collection of downloaded TV shows, offering copies to anyone who wanted them. Unfortunately I'm not sure what's happened to him.
That's What the BCC Field is for (from Jeremy)
So I decided to check an old .edu account, and I see an email containing this monstrosity of a TO: field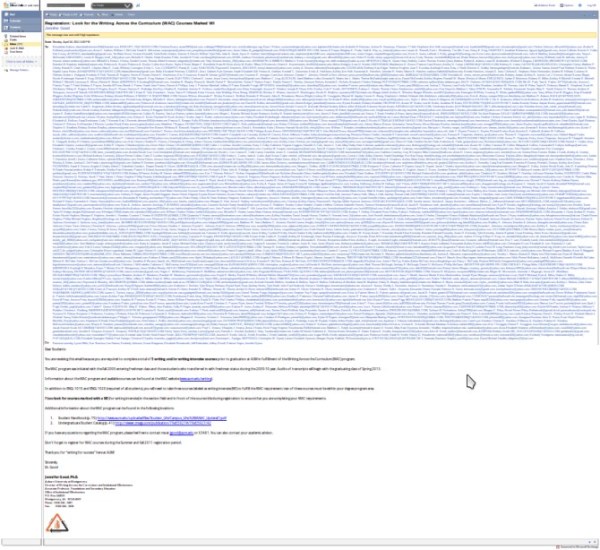 For the record, that's 1677 addresses in the TO field and 11 in the CC field.
Fantastic JOB TITLE Opportunity (from Wouter)
I found the following email in my inbox, looks like a dreamjob, I hope my YEARS years of experience with SKILLS is good enough to match their wishes:
Dear Wouter

We are currently searching for a JOB TITLE to work in  CITY, COUNTRY  for DURATION plus extensions. 
This is a fantastic contract opportunity for a large multi-national client.

The ideal candidate must have the following skills: SHORT JOB DESCRIPTION.

If you are interested in this position, please respond within 24 hours with a short motivation letter 
and your CV in Word format so MBA can contact you. 

MBA do have a policy to fulfill job requests within 24 hours therefore a quick response is important.

Alternatively, you can call us on the number below.

MBA does apologise when this job does not match your profile. However, if you have any colleagues who 
may be interested in this contract opportunity; please forward this email to them. If they are successfully 
placed at our client site, we will award you with £150.00 (180 Euros).

Thank you for your time and we hope to hear from you soon,

Regards

Torsten Friedrich 
Recruiting Team 
MBA, Michael Bailey Associates

Those Bugs Sure are Fast! (from Shachar)
The following arrived through the company's email. I wonder whether they will use hounds that will run alongside the company cars.
________________________________________________________
From: Redacted@initrode.com
To: All employees
Subject: bug hunt

we need 3 company car for bug hunt on Monday

10:00-12:00

Thank you!!!!

Redacted


[Advertisement]
BuildMaster
allows you to create a self-service release management platform that allows different teams to manage their applications.
Explore how!