Can you string words together and form a sentence? Can you string statements together and form a class definition? Can you sometimes be funny? Can you do all three at the same time?
We're looking for people with good writing skills and an IT background who are ready and willing to polish reader submissions into funny, entertaining, and memorable stories. We need you to be able to take true-to-life stories from the IT trenches, spot the most absurd bits of them, and explain the entire thing in a way that makes our readers laugh, or at least kinda grin, a little. You'll be expected to meet deadlines and communicate your availability to us. We're flexible, and we're looking for people who can commit to between 1-4 articles a month.
This isn't just about what we need, though. What about you? What do you get aside from fame and glory? Money! This is a paying gig, but don't go quitting your day job or anything. We pay a flat rate per article, varying by article type.
So how do you get started? Look at the ancient Apple ad below. It's very similar to many of our reader's submissions. Read through it, identify the core WTF, then turn it into a funny, memorable story, in the vein of what you see at The Daily WTF. There's not a lot there, so you're going to need to invent characters, and fill in the details. It should be between 300-500 words long. Send your results to alexp@worsethanfailure.com with "Writing WTFs" in the subject line.
In the same email, tell us a little bit about yourself, your IT experience, and why you'd make a good writer for the Daily WTF. If we like your submission, we'll get in touch with more information.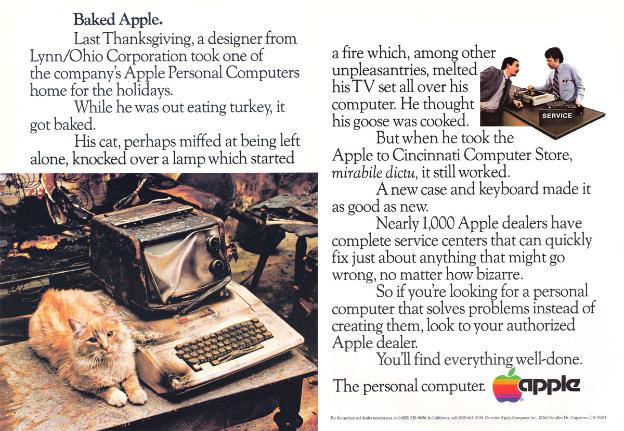 ---
Originally posted on
The Daily WTF's Google+ Page
. Follow us. Enjoy the bonus articles ...if you dare!
UPDATE: WOW! The response from this has been HUGE! THANK YOU ONE AND ALL! Now the hard work of reviewing submissions begins!

[Advertisement]
BuildMaster
allows you to create a self-service release management platform that allows different teams to manage their applications.
Explore how!