At least we get a summer break, I suppose. Not like over at Doghouse Insurance. Original -- Remy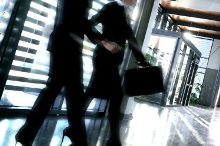 Doghouse Insurance (as we'll call them) was not a pleasant place to work. Despite being a very successful player in their industry, the atmosphere inside Doghouse was filled with a constant, frenzied panic. If Joe Developer didn't delay his upcoming vacation and put in those weekend hours, he might risk the timely delivery of his team's module, which might risk delaying the entire project, which might risk the company's earnings potential, which might risk the collapse of the global economy. And that's just for the Employee Password Change Webpage project; I can't even begin to fathom the overarching devastation that would ensue from a delayed critical project.
To make matters worse, the primary business application that poor souls like Vinny maintained was a complete nightmare. It was developed during the company's "database simplification" era and consisted of hundreds of different "virtual attribute tables" stuffed into four real tables; it was a classic case of The Inner-Platform Effect. But amidst all this gloom and despair was an upbeat fellow named Chris who accidentally became a part of the Doghouse Insurance team.
Chris interviewed with Doghouse Insurance back in 2002 for a developer position on the Data Warehouse team. With the large pool of available candidates at the time, Chris didn't make the cut and the opening was awarded to someone else. However, Doghouse never communicated this to him and instead offered him a job.
It was an awkward first day; Chris showed up and no one knew what to do with him. They obviously couldn't immediately fire him (it would risk a lawsuit, which might risk a -- oh, you know the drill) and, since all teams were short-staffed, they couldn't increase the headcount on one team because that would be unfair to all of the other managers. After a few weeks, it was finally decided: Chris would be the Source Control Guy.
Doghouse Insurance didn't really have a need for a Source Control Guy and Chris didn't really have any experience being a Source Control Guy. It was a perfect match. After a few months, Chris figured out how to manage Doghouse's Source Control System and became responsible for the entirety of SCS-related tasks: adding new users, reseting forgotten passwords, creating new repositories, and -- well -- that was pretty much it.
While everyone else stressed out and practically killed themselves over deadlines, Chris mostly sat around all day, waiting for that occasional "I forgot my source control password" email. He never gloated nor complained and instead made himself available to listen to his coworker's grievances and tales of woe. Chris would offer up whatever advice he could and would generally lighten the mood of anyone who stopped by his desk for a chat. His cubicle became the sole oasis of sanity in the frantic world of Doghouse Insurance.
Although Vinny is no longer at Doghouse Insurance (he actually left after following Chris' advice), he still does keep in touch with Chris. And Vinny is happy to report that, should you ever find yourself unfortunate enough to work at Doghouse Insurance, you can still find Chris there, managing the Source Control System and eager to chat about the insanity that is Doghouse.

[Advertisement]
BuildMaster
allows you to create a self-service release management platform that allows different teams to manage their applications.
Explore how!