We generally don't do news roundups when yet another major company gets hacked and leaks personally compromising data about the public. We know that "big company hacked" isn't news, it's a Tuesday. So the Equifax hack didn't seem like something worth spending any time to write an article about.
But then new things kept coming out. It got worse. And worse. And worse. It's like if a dumpster caught on fire, but then the fire itself also caught on fire.
If you have been living under a rock, Equifax, a company that spies on the financial behavior of Americans and sells that intelligence to banks, credit card companies, and anyone else who's paying, was hacked, and the culprits have everything they need to steal the identities of 143 million people.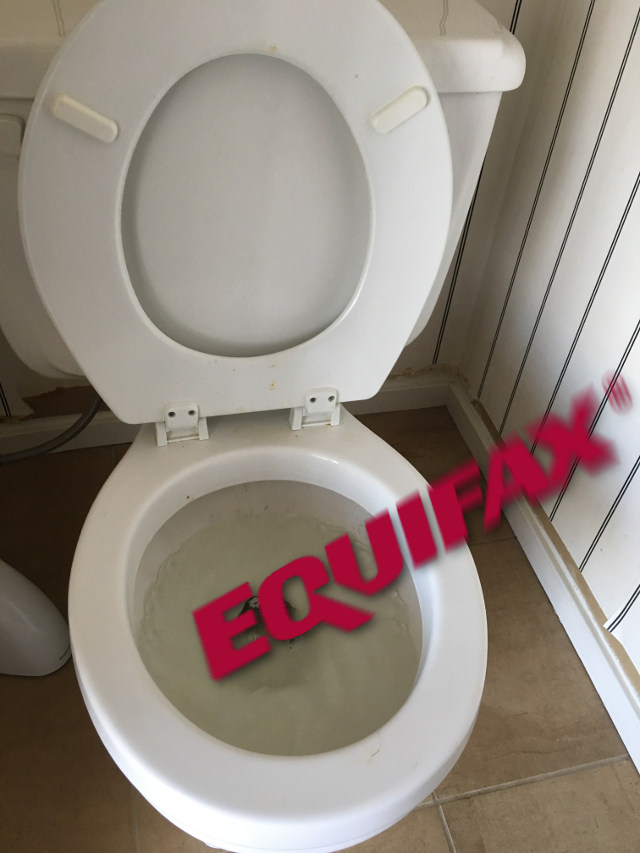 That's bad, but everything else about it is worse. First, the executives kept the breach secret for months, and then sold stock just before the news went public. That is a move so utterly brazen that they might as well be a drunk guy with no shirt shouting, "Come at me bro! Come at me!" They're daring the Securities and Exchange Commission to do something about it, and are confident that they won't be punished.
Speaking of punishment, the CEO retired, and he'll be crying about this over the $90M he's collecting this year. The CIO and CSO went first, of course. They probably won't be getting huge compensation packages, but I'm sure they'll land cushy gigs somewhere.
Said CSO, by the way, had no real qualifications to be a Chief Security Officer. Her background is in music composition.
Now, I want to be really clear here: I don't think her college degree is actually relevant. What you did in college isn't nearly as important as your work experience, which is the real problem- she doesn't really have that, either. She's spent her entire career in "executive" roles, and while she was a CSO before going to Equifax, that was at First Data. Funny thing about First Data: up until 2013 (about when she left), it was in a death spiral that was fixed after some serious house-cleaning and restructuring- like clearing out dead-weight in their C-level.
Don't worry about the poor shareholders, though. Remember Wells Fargo, the bank that fraudulently signed up lots of people for accounts? They list Equifax as an investment opportunity that's ready to "outperform".
That's the Peter Principle and corporate douchebaggerry in action, and it certainly starts getting me angry, but this site isn't about class struggle- it's about IT. And it's on the IT side where the real WTFs come into play.
Equifax spies on you and sells the results. The US government put a mild restriction on this behavior: they can spy on you, but you have the right to demand that they stop selling the results. This is a "credit freeze", and every credit reporting agency- every business like Equifax- has to do this. They get to charge you money for the privilege, but they have to do it.
To "secure" this transaction, when you freeze your credit, the credit reporting companies give you a "password" which you can use in the future to unfreeze it (because if you want a new credit card, you have to let Equifax share your data again). Some agencies give you a random string. Some let you choose your own password. Equifax used the timestamp on your request.
The hack itself was due to an unpatched Struts installation. The flaw itself is a pretty fascinating one, where a maliciously crafted XML file gets deserialized into a ProcessBuilder object. The flaw was discovered in March, and a patch was available shortly thereafter. Apache rightfully called it "Critical", and encouraged all Struts users to apply the fix.
Even if they didn't apply the fix, Apache provided workarounds- some of which were as simple as, "Turn off the REST plugin if you're not using it," or "if you ARE using it, turn off the XML part". It's certainly not the easiest fix, especially if you're on a much older version of Struts, but you could even patch just the REST plugin, cutting down on the total work.
Now, if you're paying attention, you might be saying to yourself, "Hey, Remy, didn't you say that they were breached (initially) in March? The month the bug was discovered? Isn't it kinda reasonable that they wouldn't have rolled out the fix in time?" Yes, that would be reasonable: if a flaw exposed in March was exploited within a few days or even weeks of the flaw being discovered, I could understand that. But remember, the breach that actually got announced was in July- they were breached in March, and they still didn't apply the patch. This honestly makes it worse.
Even then, I'd argue that we're giving them too much of the benefit of the doubt. I'm going to posit that they simply don't care. Not only did they not apply the patch, they likely had no intention of applying the patch, because they assumed they'd get away with it. Remember: you are the product, not the customer. If they accidentally cut the sheep while shearing, it doesn't matter: they've still got the wool.
As an example of "they clearly don't care", let's turn our attention to their Argentinian Branch, where their employee database was protected by the password admin/admin. Yes, with that super-secure password, you could log in from anywhere in the world and see the users usernames, employee IDs, and personal details. Of course, their passwords were obscured as "******"… in the rendered DOM. A simple "View Source" would reveal the plaintext of their passwords, in true "hunter2" fashion.
Don't worry, it gets dumber. Along with the breach announcement, Equifax took to social media to direct users to a site where, upon entering their SSN, it would tell them whether or not they were compromised. That was the promise, but the reality was that it was little better than flipping a coin. Worse, the site was a thinly veiled ad for their "identity protection" service, and the agreement contained an arbitration clause which kept you from suing them.
That is, at least if you went to the right site. Setting aside the wisdom of encouraging users to put confidential information into random websites, for weeks Equifax's social media team was directing people to the wrong site! In fact, it was directing them to a site which warns about the dangers of putting confidential information into random websites.
And all of that, all of that, isn't the biggest WTF. The biggest WTF is the Social Security Number, which was never meant to be used as a private identifier, but as it's the closest thing to unique data about every American, it substitutes for a national identification system even when it's clearly ill-suited to the task.
I'll leave you with the CGP Grey video on the subject:

[Advertisement]
BuildMaster
allows you to create a self-service release management platform that allows different teams to manage their applications.
Explore how!