Let's take a moment to talk about documents. I once worked on an application that needed to generate some documents for Sarbanes-Oxley compliance, and without confessing to too much of a WTF, let's just say it involved SQL Server Reporting Services, SharePoint, and some rather cryptic web service calls that I'm almost certain have stopped working in the years since I built it. The solution belongs here.
I bring this up, because I'm happy to announce a new sponsor here at TDWTF: Atalasoft, which would have kept me from writing that awkward solution.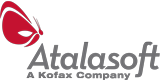 Atalasoft makes libraries for working with documents from your .NET applications. There are SDKs for manipulating images, working with PDFs, and mobile SDKs for doing document capture on iOS or Android devices, and WingScan provides interaction with TWAIN scanners right from inside of a web browser. Their products provide zero-footprint document viewing, easy interfaces for constructing and capturing documents, and come with top-tier support for helping you get your application built.
This sponsorship coincides with their latest release, which partners with Abbyy's FineReader to add OCR support, the ability to interact with Office documents without Office installed, new PDF compression options, and a variety of improvements to their already excellent controls and SDKs.

[Advertisement]
BuildMaster
allows you to create a self-service release management platform that allows different teams to manage their applications.
Explore how!